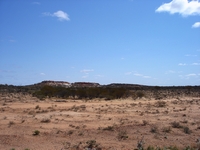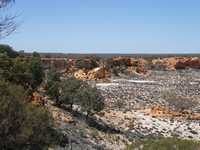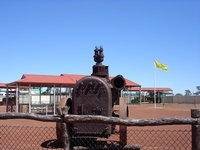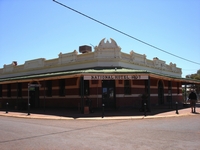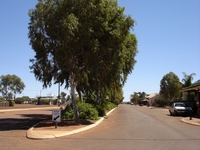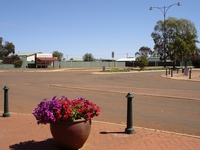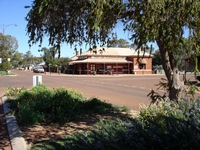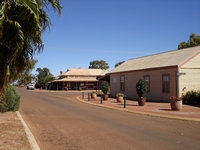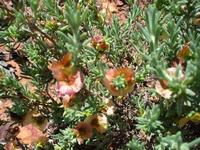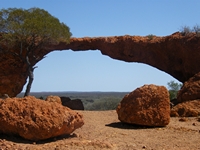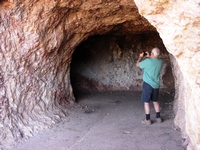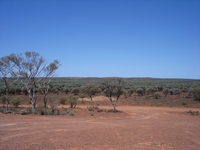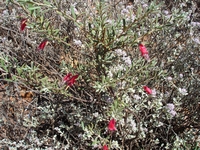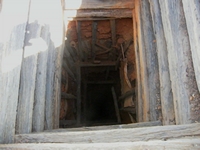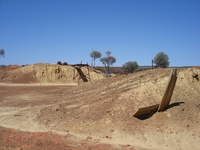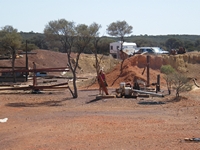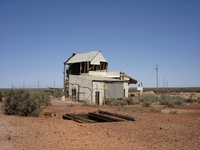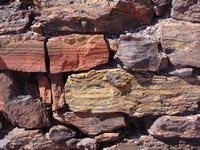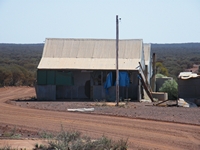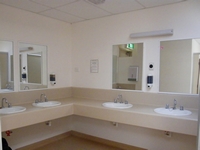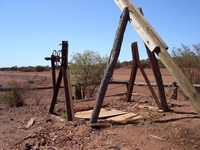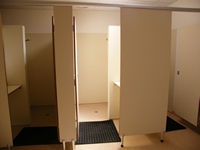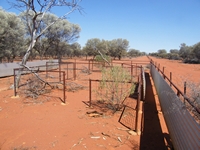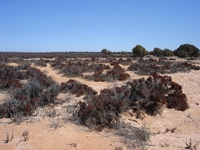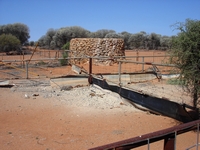 Copyright (C) 2013 AustraliaSoMuchtoSee.com. All rights reserved
London Bridge - The Sandstone Arch is a major feature at Sandstone, and is a little further along the heritage trail. This unique structure consists of weathered basalt and is believed to be about 350 million years old. It was once possible to drive a horse and buggy across the arch and photos of this can be seen in the Sandstone Museum. As can be seen by the large boulders under the arch, considerable erosion has taken place since and it is not considered safe to even walk on it now.
This all looked like 'pick and shovel' mining, although a name with a date marked on the cement where an engine had been mounted was the somewhat recent date of Feb 1984.
Next feature on the trail was the site of the State Battery. First established at Paynesville, the State Battery was moved to a site west of here in 1904 and was finally shifted to this site in 1925. 135,809 tons of ore were treated at the Battery producing 115,787 ounces of gold bullion. The Battery closed in 1982.
Heading towards the town, we stopped at Contradiction Well which was the first town water supply and in fact predates the establishment of the Sandstone townsite. It was located on Menzies Road for prospectors, Cobb & Co coaches and travellers in the area to use for horses and livestock.
By 1919 the population of the town had dwindled to 200 people. When we were there in 2008, the population of the entire Shire of 28,218 square kilometres was 116 people. There were fifteen pupils attending the Primary School.